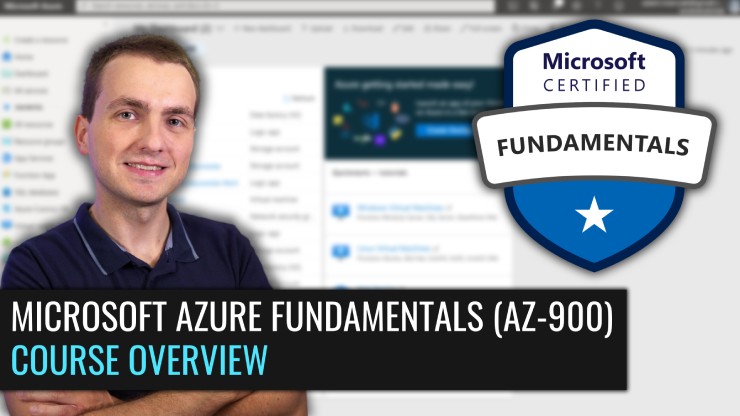 AZ-900 Microsoft Azure Fundamentals certification is the first and the most important certification for anyone who is just starting with Azure. It's very exciting for me to release this course to everyone!
Path Overview

Navigation
Start here!
Describe the benefits and considerations of using cloud services
Describe the core Azure architectural components
Describe some of the core products available in Azure
Describe some of the solutions available on Azure
Describe Azure management tools
Describe securing network connectivity in Azure
Describe core Azure Identity services
Describe security tools and features of Azure'
Describe Azure governance methodologies
Describe monitoring and reporting options in Azure
Describe privacy, compliance and data protection standards in Azure
Describe Azure subscriptions
Describe planning and management of costs
Describe Azure Service Level Agreements (SLAs)
Describe service lifecycle in Azure
Course Overview
Start here!
Below you can find a full list of study materials, cheat sheets, references and videos to learn more!
Module 1
Describe cloud concepts (15-20%)

Describe the benefits and considerations of using cloud services
Module 2
🔷 Describe core Azure services (30-35%)

Describe the core Azure architectural components
Episode 07: Azure Regions and Availability Zones

🔗

Skills Learned

Describe Data Cenetrs
Describe Regions and Region Pairs
Describe Geographies
Describe Availability Zones
Describe the benefits and usage of core Azure architectural components (Regions & Availability Zones)

Episode Resources
Study Guide
Expand your knowledge - extra resources

Episode 08: Azure Resource Groups and Resource Manager

🔗

Skills Learned

Describe Resources
Describe Resource Groups
Describe Azure Resource Manager
Describe the benefits and usage of core Azure architectural components (Azure Resource Manager & Resource Groups)

Episode Resources
Study Guide
Expand your knowledge - extra resources
Describe some of the core products available in Azure
Describe some of the solutions available on Azure
Describe Azure management tools
Module 3

🔷 Describe Security, Privacy, Compliance, and Trust (25-30%)
Describe securing network connectivity in Azure
Describe core Azure Identity services
Describe security tools and features of Azure'
Describe Azure governance methodologies
Describe monitoring and reporting options in Azure
Describe privacy, compliance and data protection standards in Azure
Module 4

🔷 Describe Azure pricing, Service Level Agreements, and Lifecycles and support (20-25%)
Describe Azure subscriptions
Describe planning and management of costs
Describe Azure Service Level Agreements (SLAs)
Describe service lifecycle in Azure